---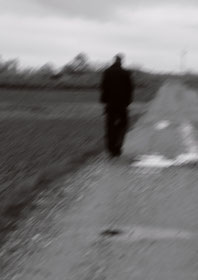 I was born in Mönchengladbach, Germany on June 27. A date that is called in Germany »Siebenschläfer«. They say it predicts the weather for the rest of the summer. There is also a rodent with the same name. But theologically it refers to seven christians that, haunted, found refuge in a cave. They were discovered and bricked in alive, but according to the myth didn't die, but fell asleep. Until they were discovered again by accident on June 27, awoke, testified to the resurrection and died shortly after.
After I was born nothing much happened, except of course the reunification of Germany, that I liked to collect junk, like a broken down record player, became a huge Michael Jackson fan, and also interestingly started to cry when I heard childrens songs as a kid.
---
December 1996 | »Music« or »The First Dream«
That record player must have left an impression on me because I got a turntable for christmas a couple years later. After that it was all about music. Scratching what I could find and everybody had some old LPs in the basement that they wanted to get rid of. Next birthday a mixer followed, later on a drum computer and even a small FX unit, microphones and the first recording sessions solo or with friends. It meant to become more then a hobby. A dream.
---
July 2003 | »Fernweh« (the german opposite to home sickness)
EIRA Highschool for adults Helsinki, Finland
In 2003 I went abroad to study at an english school in Helsinki. I wasn't so much interested in the AICE Dimploma I could achieve there, but to improve my english skills to write better lyrics. A foreign country, a foreign culture that suited me a lot, a foreign language that I didn't manage to learn in 4 years. Financially supported by my mother, which I'm very grateful for, but managing on my own. And music. It was all about music. Days and nights spent to listen to virtually everything to see if I couldn't cut something here, find a melody to sample there, and writing lyrics.
---
Going back home was a strange experience. Of course I visited in between. But I always wanted to come back with something to show for. Something more than a diploma. And while I lived in a 13 story building and studied in an international enviroment in the capital of Finland, at home I was back as the younger brother, the youngest child in a village next to a small town.
---
August 2009 | »Editing« or »Le montage«
Apprentice as media designer for images & sound, Düsseldorf
It took a year until I found an apprenticeship as a media designer. The next best thing corresponding to my interest in producing music. And I had a lot of different job interviews in the meantime, while working in a copy shop, from retail salesman or insurance agent to working in a restaurant with the option to became a wine connoisseur. In the end producing my first music video might have helped to get the job. After all audio- and video editing is quite similar.
Back to the city life.
---
November 2009 | »The first short film« or »The Second Dream«
And that is when I discovered that I could make films. Before I was interested of course as a small time film buff for unusual films like the works of David Lynch. But I didn't know anything about it except that it was a rather costly endevour.
Shortly after my best friend got himself a MiniDV-camera and we shot a short. Without a real script. So I read one book after another about scriptwriting. No bestsellers, but everything I could afford used, because I quit the apprenticeship after only one and a half years to become self employed as a video editor. It worked for a while. Then it didn't.
But there remained a passion for editing and the dream of making films.
---
July 2012 | »A Small Elephant«
A children's book
In desperate need for money I came across writing competitions with prize money. Since I was writing scripts anyway I took part with short storys. No profit there. But I enjoyed the freedom of writing without having in mind that I must also be able to shoot it, like I did before.
My brother was about to become a father and I had the idea that I would give my newborn niece as a present a picture book with the story of a small elephant, that one day asks himself why he has a trunk. An ex-colleague did the illustrations with horrific drawings by myself as guidance. It worked and I held my first book in my hand, but more importantly I managed to finish it in print until she decided to catch her first glimpse of the world.
---
December 2012 | »21.12.2012 - Der kürzeste Tag« (21.12.2012 - The shortest day)
ARTE short film competition
I shot a lot in these years, even though there was never any budget, but I believed that I had to learn the theory from books and of course watching films, but also practice.
Producing my entry »Stille Nacht« (Holy night) was a disaster. I failed to sell my idea to friends and ex-colleagues, who I also assisted with their entry, but I couldn't let it go and wanted to shoot it solo two days before submission deadline in my mothers house, because I thought she had decorated already.
In short: Nothing worked. When I finally took the first shot I was so much behind schedule. The handheld »dolly shot« I had envisioned, a turbulent but smooth single long take, didn't work at all with the camera (no gimbals at that time). I had to cut. And for the final shot of abandoned houses in a ghosttown nearby it had already gotten to dark. Nothing worked.
I put it together as best as I could just to submit it, because if I didn't all that hassle would've been for nothing, a failure. But I hated the result so far away from my vision.
My best friend called me when they had posted the results.
»Man! You got the audience award!«
»I saw. It must be a mistake.«
»No, you won the audience award!«
---
June 2013 | »Back to the beginning« or »Analog photography«
Somewhere while reading up on grading & color correction I came across »cross developing« analoge film. That is developing slide film as if it were 35mm, producing results with higher contrast and an amost surreal color shift depending on the film used. It was too affordable not to try it, even though I was unemployed at that time or maybe because of that, since I had time.
I shot film digitally, better known as video, but hadn't got envolved with photography before. When I started as an apprentice in media design it was before or at the turning point of analog to digital in the film industry, so before DSLRs that could shoot more then mediocre video. So I didnt know how similar these domains really were except that some of my favourite filmmakers also liked to shoot stills. So I got a 70s compact and slide film and took a trip to an abandoned factory area in the middle of summer. It was kind of an adventure, since the area had been closed down and I had to climb my way into it without attracting too much attention.
But I fell in love with the process, manually adjusting the device, and especially the results and continued taking photographies analog while filming digitally and never the twain shall meet.
Of course it happened years later, when I was too broke to afford developing.
---
May 2014 | »Der Philosoph« (The philosopher)
The first (almost) middle length film
BDFA Bundesfilmfestival: Bronze
Before most shoots were connected to competions or of a trying out nature like a story told via voice over with supporting images, but almost none with cast, crew, production dates, cinema camera, sound equipment and so on. I had practiced a lot so to speak but wanted to take the next step. Something »professional« with a small budget.
In short: I made many mistakes but also one great decision. The skill of a director though is to make almost only great decisions, which with a medium as complex as film is the daring adventure, even in the digital age.
---
September 2014 | »Super 8« or »Project Solving Dreams«
And talking about the digital age, I just had to know how it was before. How it felt shooting film. And since I had developed a taste for old equipment reminding me now of the broken down record player I found as a kid, I bought for next to nothing a Super-8 camera and film and started shooting. Little did I know that no company offered development for this film anymore (Kodakchrome 40) except freelancers in home laboratories. Plus of course I wanted to edit it digitally so it had to get digitized. In short: A low cost opportunity to satisfy a yearning curiosity became as expensive as not to repeat it ever again. But I knew now. I knew.
---
May 2015 | »Filmschool« or »Dream vs. Reality«
ifs international filmschool cologne
Visiting a film school had never crossed my mind. It seemed like an academic way. A way to study how to produce mainstream cinema. The best friend, who I once shot the first short with, applied before me and suggested to do the same. On the one hand it was very appealing to take this step together and on the other hand it was an opportunity to lend substance to a dream. A real way to do it.
He applied for directing while I applied for scriptwriting. I got in. He didn't.
It didn't change our friendship. But the question still remains if I had quit after the first semester since I couldn't figure out how to pay for the second one (amongst other things), if we had been in the same boat.
When I started making films or after the first couple of shorts I set a goal. I wanted to do 20 short movies, before I'd do a feature length film. Practice. I managed 17 shorts.
---
December 2016 | »Broke again« or »The first feature«
In the evening till late at night on Christmas Eve I manouverd a tripod with camera attached over my bathtub. Before on the same day I had collected dirt & leaves in a park nearby. The idea was a tracking shot. Printed photographies of chapters of the history of european civilisation sunken down in the water half coverd in dirt and leaves floating on the surface, which was put in motion by trickling drops, like rain on a stream. The bottom of the bathtub was covered with a european flag. An idea for a short about Europe. All I could afford was a Panasonic GH1 from 2009, which I hacked, but in low light there was still color banding & artifacts all over. So I shot in black and white.
But it wasn't enough. A short with experimental images and voice over or clips of news coverage didn't suffice to capture my mindstate about Europe at that time. I needed a story. Something to connect to life.
In short: During 2017 I shot my first feature »OKZIDENT« and edited, mixed sound, graded & composed the soundtrack in 3 months of almost isolation. Almost because I only took time off for family visits twice. The rest was a now surreal episode of working, drinking and working. Until it was done.
Back then I thought »Well, now I have done a feature and nobody can take it away from me«
But in retrospective it might as well be these 3 very intense month, that I'll never forget.
---
February 2019 | »Art« or »The Third Dream«
The creative circle
I admired art as a youth but only that which I could understand. Classicism, like the skill to paint lifelike, and Surrealism like those dream-like pictures of Dali.
But more and more in the prior years friends and aquaintances told me that art is everything. That you can't judge art. That art is culture. That art is life. And so on. But if you say that everything is art, what about that human beeing that thought about a brush stroke for hours, days, weeks? What about those people that spent their life trying to figure it out? 
But all I had was an opinion. So I had to study art in my freetime.
During training to become a customer service agent and reading in a short break a book about the periods of art, a collegue stepped up to me.
»What are you reading?«
»It's about art history the different stages and everything«
»But why?«
I didn't have an answer.
And when I like to say that Dostojevsky taught me literature, then the more it is true, when I say that Kandinsky taught me art, literally in his book »Über das Geistige in der Kunst« (Concerning the Spiritual in Art).
Years later and it gets really interesting, because I discovered that it is all one and the same. The creative circle.
A painting that has sound. A photography that moves. A word that lets you feel a color you have never seen before. A picture that tells a story. A story that forces you to step closer like a painting. A film that is not about what you see, but what you think. It is all the same.
But there are no strokes connecting it like a net or boundaries, only the human desire for aspiration. To create. And if you have that demand of yourself, that inner urge to strive for something unique, something of your own, the medium is just a vessel.
And if you have that, what else do you need in life?
Except remaining humble, beeing a good friend and stranger and maybe find a little happiness.
And that's all there is.
---
Today I live and work in Düsseldorf, Germany.
---